We do not know what to do, but our eyes are on you.
— 2 Chronicles 20:12b (ESV)
Unprecedented. It's the word we keep hearing because it accurately describes what this looks and feels like. We've never known a time like this before. It is unparalleled, uncharted, lonely and overwhelming. We are all navigating a time personally and professionally during which we have more questions than answers. Few, if any, have escaped the impact of the COVID-19 pandemic. It has affected our staff, our volunteers, our patients and visitors, and of course, you.
When up against a foreign military power, Jehoshaphat's response was to pray. We can all echo his prayer in 2 Chronicles: 'We do not know what to do, but our eyes are on you.' Like Jehoshaphat, we believe that God has a plan, that He is in control and that we can turn to Him for comfort, wisdom, guidance and provision. May you and your family know the Lord's peace at this time.
At the Nazareth Trust, we too face enormous challenges. Upon request from Israel's Ministry of Health, the Nazareth Hospital is creating up to 60 intensive-care beds for COVID-19 patients, and more as the crisis develops. As a result, we have closed our pediatric surgical and internal medicine wards and have transferred the psychiatric department to the Doctor's House residence. The Ministry has cancelled all non-urgent operations, causing us to experience a major loss of planned income. We are therefore facing a massive shortfall in planned annual income that we do not have the resources to endure without emergency funding from the Ministry of Health. At this time of national crisis, we are confident that the Ministry will support us and will not allow the hospital to collapse.
Our 700 staff members are facing incredible challenges as well. Understandably, many are worried about the security of their jobs and finances, compounding the anxiety they feel about their own health and that of their loved ones. All of this must be pushed to the background while they serve on the front line of this war against nature, foregoing their personal safety to care for the sick. We stand by each one of them.
Yet in the midst of this chaos the Lord is in control. At the hospital, our Pastoral Care Team are continually praying in the name of Jesus with staff and patients – people of all faiths and people of none. This is the time, more than any other, when we must share God's peace, love and healing in a frightened world. In Philippians 4:6-7, Paul remind us to "not be anxious about anything, but in everything by prayer and supplication with thanksgiving let your requests be made known to God. And the peace of God, which surpasses all understanding, will guard your hearts and your minds in Christ Jesus." Our team are showing the way to find the peace of God. This pandemic has reaffirmed that at times of fear, people turn to God. Through the Hospital we offer the pastoral and spiritual perspective of Jesus of Nazareth. If not for the Hospital, we would not have our Christian witness or ministry in Nazareth that reaches over 400,000 people annually.
I am asking you to join us in an unprecedented appeal. We need to achieve two goals. First, we are creating a Practical Support Fund to address the acute practical needs and hardships faced by some of our staff and patients. Our staff are under enormous pressure, having concerns for their patients, their own welfare and the needs of their families. With your support, and under the direction of the Pastoral Care Team, we aim to meet practical needs alongside spiritual care. This support could be in the form of small financial assistance, emergency food parcels or other kinds of support for those is desperate need.
Please use the reference "COVID-19 Practical Support Fund" to support these needs when using the relevant donation link below this message. And please would you consider whether your network of contacts would be interested in supporting this appeal.
Second, while we focus on navigating the challenges of the present, we cannot ignore the future. We want the Nazareth Hospital to emerge from this crisis in a stronger position than ever before, as the primary Trauma and Acute Care center in Northern Galilee. Let me be clear. Whilst we are confident that the Ministry of Health will support the hospital financially during this crisis, the hospital will be a very different hospital by the end. Looking to the future, it is essential that we plan ahead and ensure that our hospital continues to be an important part of the Israeli health system, with facilities that ensures our Christian ministry continues for many generations to come.
Therefore, we are launching a $5m Capital Campaign Fund – an amount that will be matched by the Ministry of Health – to build new, improved Emergency Room facilities. Some of you have the financial resources to make a real difference in meeting this need, and it is to you whom we appeal for support.
Please thoughtfully and prayerfully ask God whether there should be a Christian witness in Nazareth. If you are led to give, please use the reference "COVID-19 Capital Development Fund" when using the relevant donation link below this message. And please would you consider whether your network of contacts would be interested in supporting this appeal.
Please know that we are praying for you, our donors, and your families. We ask that you continue to pray for the Nazareth Hospital, our staff and patients as we journey through this experience together.
Finally, thank you. Thank you for standing with us. Thank you for praying for us. Thank you for making a difference during this challenging time for the people of Nazareth.
If you would like further information or have any questions, please contact me at richard@nazarethtrust.org.
Yours faithfully,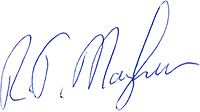 Richard Mayhew
Chief Executive Officer